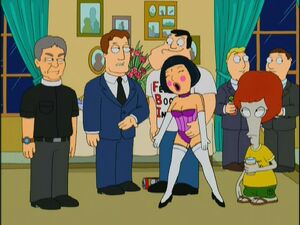 Bobo Peterson is reportedly an old college friend of Stan's. When Stan receives an invitation to Bobo's bachelor party by mistake in "Roger 'n' Me", Stan shows up and completely embarrasses him, including presenting a Japanese sex doll to him in front of his future father-in-law, Reverend Hideki Obayashi.
Peterson is voiced by John Torbett.
Ad blocker interference detected!
Wikia is a free-to-use site that makes money from advertising. We have a modified experience for viewers using ad blockers

Wikia is not accessible if you've made further modifications. Remove the custom ad blocker rule(s) and the page will load as expected.