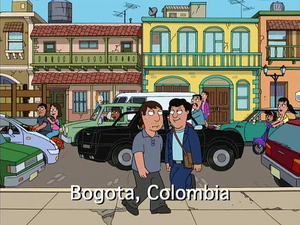 Bogotá is the capital city of Colombia, as well as the most populous city in the country, with an estimated 7,304,384 inhabitants as of 2009. Bogotá and its metropolitan area, which includes municipalities such as Chía, Cota, Soacha, Cajicá and La Calera. In terms of land area, Bogotá is the largest city in Colombia, one of the biggest of Latin America, figures in the 30th largest cities of the world, and its altitude (2,640 metres) makes it the third-highest capital city in the world, after La Paz and Quito
Stan and Jim are captured in Bogotá, Colombia while on a mission to listen in on a meeting of arms dealers in "Wife Insurance". Jim helps them escape by having sex with all of the female guards on their 200 mile trek though the jungle.
Ad blocker interference detected!
Wikia is a free-to-use site that makes money from advertising. We have a modified experience for viewers using ad blockers

Wikia is not accessible if you've made further modifications. Remove the custom ad blocker rule(s) and the page will load as expected.