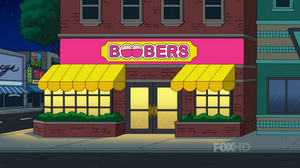 Boobers is where the Smith family goes out for dinner over Hayley's objections in "Faking Bad". There, she meets an old friend Zooey who offers to take her out with some other friends. Steve tries to get her to show him her boobs by presenting her with an ID as a "Federal Boobie Inspector". She refuses to accept it as legitimate at first, but when she scans it and it verifies his identity, she starts to lift her top until stopped by Hayley, to Stan and Steve's disappointment. Francine questions as to what her father would think of her working in such a place until he is revealed to be the manager who takes pride in other people looking at his daughter's boobs.
Ad blocker interference detected!
Wikia is a free-to-use site that makes money from advertising. We have a modified experience for viewers using ad blockers

Wikia is not accessible if you've made further modifications. Remove the custom ad blocker rule(s) and the page will load as expected.