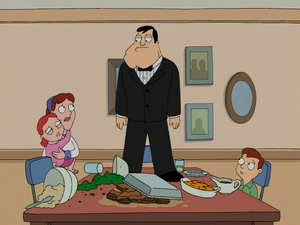 Brandi is a little girl that fears for her life when Stan Smith breaks into a home and kicks over their dinner while lost in sining "I Want A Wife (Not A Partner)" in "Stan of Arabia: Part 1". When she asks her mother if they will die, her mother believes that they will.
Ad blocker interference detected!
Wikia is a free-to-use site that makes money from advertising. We have a modified experience for viewers using ad blockers

Wikia is not accessible if you've made further modifications. Remove the custom ad blocker rule(s) and the page will load as expected.