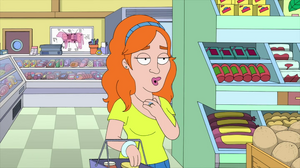 Brenda is an old friend of Francine Smith's who she hadn't seen for ten years until bumping into her at the grocery store in "The Boring Identity"
Brenda proudly shows her an engagement ring and says her fiance Theo is such a great and caring guy, while pointing out that she wouldn't had the patience to put up with Stan whom she saw as an embarrassing jerk that Francine was supposed to fix. When she asks how Stan is doing, Francine observes him fighting with an old lady for a cut of meat and glosses over her failure. Brenda invites her and Stan to her wedding and Francine tells her that Stan may have another commitment.
But when Stan loses his memory, Francine takes the opportunity to make Stan over into the perfect husband and they attend Brenda and Theo's wedding. Francine snarkily comments on the ceremony and new Stan takes offense and decides that Francine is too crude for him. While Francine is stuck at the reception watching Stan dance with an older Navajo woman, she gets the idea to sing Stan's favorite song to jog his memory back to normal. As part of her apology, she realizes that she is paralleling part of the ceremony that she was criticizing and apologizes to Brenda.
Brenda walks past the front of the Skylark Bar in "Faking Bad" with another gentleman as a drunk kid exits the bar. She is also one of the shoppers asking how much weed Jeff smokes in "Stan Smith as Keanu Reeves as Stanny Utah in Point Breakers".
Brenda is voiced by Hali Hudson.
Ad blocker interference detected!
Wikia is a free-to-use site that makes money from advertising. We have a modified experience for viewers using ad blockers

Wikia is not accessible if you've made further modifications. Remove the custom ad blocker rule(s) and the page will load as expected.