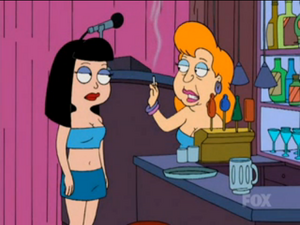 Brenda Buell Vaccaro (born November 18, 1939) is an American stage, television, and film actress, a leading lady on screen, stage and sometimes television. She has been nominated for an Emmy Award three times and won for Best Supporting Actress in Comedy-Variety, Variety or Music for The Shape of Things in 1974.
Brenda provides the voice of the bartender at Mentally Deficient Young Women in "Stan Knows Best".
Ad blocker interference detected!
Wikia is a free-to-use site that makes money from advertising. We have a modified experience for viewers using ad blockers

Wikia is not accessible if you've made further modifications. Remove the custom ad blocker rule(s) and the page will load as expected.