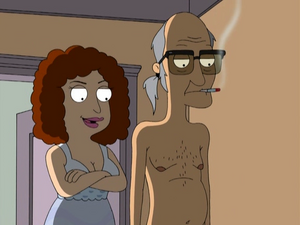 Brian Doyle-Murray is an American comedian, screenwriter and actor. An alumnus of Saturday Night Live, he is the older brother of actor/comedian Bill Murray and has acted together with him in several films, including Caddyshack, Scrooged, Ghostbusters II and Groundhog Day. He has worked in animation as the Flying Dutchman on SpongeBob SquarePants and Cap'n K'nuckles on Flapjack.
Brian Doyle-Murray provided the voice of Al in "Stan's Night Out".
Ad blocker interference detected!
Wikia is a free-to-use site that makes money from advertising. We have a modified experience for viewers using ad blockers

Wikia is not accessible if you've made further modifications. Remove the custom ad blocker rule(s) and the page will load as expected.