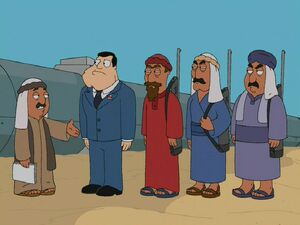 Brian George (born 1 July 1952) is an Israeli-born British actor, known for playing characters of South Asian, particularly Indian, descent. His film and television roles include Seinfeld, The Big Bang Theory, Austin Powers: International Man of Mystery and Hotel Transylvania.
Brian voices Ali, one of Stan's trio of Arab co-workers in "Stan of Arabia: Part 1".
Ad blocker interference detected!
Wikia is a free-to-use site that makes money from advertising. We have a modified experience for viewers using ad blockers

Wikia is not accessible if you've made further modifications. Remove the custom ad blocker rule(s) and the page will load as expected.