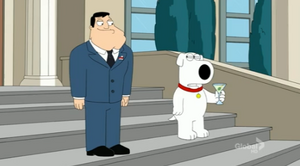 Brian Griffin is the fictional, cartoon, drinking, talking dog from Seth MacFarlane's other show Family Guy.
In "The Return of the Bling", Klaus is ready to go to school decked on in an assortment of Family Guy gear, including a Brian Griffin baseball cap.
In "The People vs. Martin Sugar", when Stan names his Top Ten Favorite Dogs, Brian being his favorite. Brian however doesn't acknowledge who Stan is.
Steve and Roger watch a DVD of Stewie Griffin and Brian taking a plane to Miami to hatch a scheme at Florida State University in "The Worst Stan". Steve and Roger question the reality of a baby and a dog flying and are smugly satisfied that a boy and an alien in a wig taking a bus trip are perfectly normal.
Brian is voiced by Family Guy creator and American Dad! co-creator Seth MacFarlane.
Ad blocker interference detected!
Wikia is a free-to-use site that makes money from advertising. We have a modified experience for viewers using ad blockers

Wikia is not accessible if you've made further modifications. Remove the custom ad blocker rule(s) and the page will load as expected.