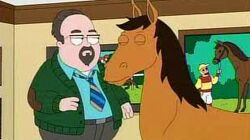 Brian P. Mahon is a horse therapist in "Don't Look a Smith Horse in the Mouth". As a prank, Roger convinces Stan to 'service' the horse they bought, Well I'll Be a Son of a Bitch. Unable to determine why it can not longer run straight, They take the horse to a professional 'horse whisperer' who determines that the horse is so traumatized it is unable to race. He is voiced by Michael McShane.
Ad blocker interference detected!
Wikia is a free-to-use site that makes money from advertising. We have a modified experience for viewers using ad blockers

Wikia is not accessible if you've made further modifications. Remove the custom ad blocker rule(s) and the page will load as expected.