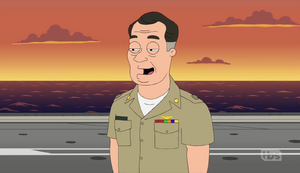 Bruce Greenwood (born Stuart Bruce Greenwood; August 12, 1956) is a Canadian actor and producer, known for his role as Captain Christopher Pike in the 2009 Star Trek film and its sequel, Star Trek Into Darkness. He has also performed in voice acting, notable for the voice of Bruce Wayne/Batman in Batman: Under the Red Hood and Young Justice.
Bruce provides the voice of the navy captain in "Daesong Heavy Industries II: Return to Innocence".
Ad blocker interference detected!
Wikia is a free-to-use site that makes money from advertising. We have a modified experience for viewers using ad blockers

Wikia is not accessible if you've made further modifications. Remove the custom ad blocker rule(s) and the page will load as expected.