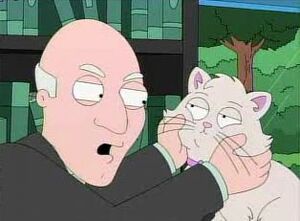 Buffy is Osama bin Laden's cat that switches brains with Ray in "Brains, Brains and Automobiles". Deputy Director Bullock finds out she thinks he smells bad and tries to win her over. When that fails to impress Buffy he decides to play tough with her.
Ad blocker interference detected!
Wikia is a free-to-use site that makes money from advertising. We have a modified experience for viewers using ad blockers

Wikia is not accessible if you've made further modifications. Remove the custom ad blocker rule(s) and the page will load as expected.