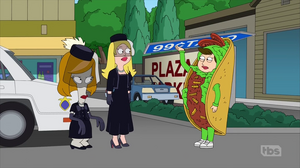 Bunny Sanders is the wife of Stan's CIA co-worker John Sanders. They have two children.
Sanders and his family are selected to go into space for a year in "Great Space Roaster" until Stan manages to get the Smith family to take their place.
Francine finds out from Bunny that Sanders was killed while on a mission in "Widow's Pique". To make ends meet, she takes a low-wage job with a taco restaurant.
Ad blocker interference detected!
Wikia is a free-to-use site that makes money from advertising. We have a modified experience for viewers using ad blockers

Wikia is not accessible if you've made further modifications. Remove the custom ad blocker rule(s) and the page will load as expected.