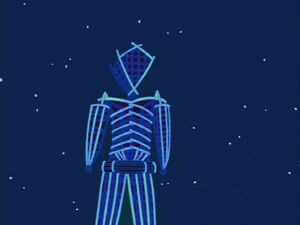 Jeff and Francine go to Burning Man in "Francine's Flashback".
Burning Man is a six-day annual event that takes place in Black Rock City, a temporary city on the playa of the Black Rock Desert in the U.S. state of Nevada, 90 miles (150 km) north-northeast of Reno, ending on the American Labor Day holiday in September. The event is described by organizers as an experiment in community, radical self-expression, and radical self-reliance and takes its name from the ritual burning of a large wooden effigy on the sixth day. The event is organized by Black Rock City, LLC, under the guidance of one of the founders, Larry Harvey, and five other members of the board, including Marian Goodell, Harley Dubois, Michael Michael, Will Roger Peterson, and Crimson Rose. In 2007, 47,366 people participated in The Burning Man Project.
See more on Burning Man at the official site.
Ad blocker interference detected!
Wikia is a free-to-use site that makes money from advertising. We have a modified experience for viewers using ad blockers

Wikia is not accessible if you've made further modifications. Remove the custom ad blocker rule(s) and the page will load as expected.