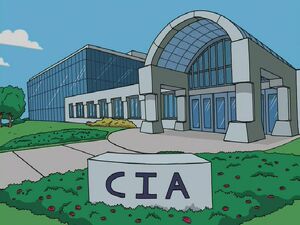 The CIA (Central Intelligence Agency), is the main security bureau imperative to the security of America. Its day-to-day operations are headed by Deputy Director Avery Bullock.
The CIA is mostly organized like a daycare. For example, in "Bush Comes to Dinner", Bullock forced Stan to sit in the "Quiet Area" and without "Milk Time".
Every CIA agent has his/her own body double who looks exactly like him/her and knows everything about the other. Mainly, the doubles are for work purposes only but sometimes they are called in on personal business.
List of CIA Employees
Facilities
Operations
Ad blocker interference detected!
Wikia is a free-to-use site that makes money from advertising. We have a modified experience for viewers using ad blockers

Wikia is not accessible if you've made further modifications. Remove the custom ad blocker rule(s) and the page will load as expected.