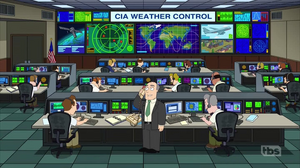 The CIA Weather Control allows the CIA to control the weather through the use of chemtrails, wind turbines and other devices.
In order to force Greg Corbin and new weatherman Memphis Stormfront back together in "Anchorfran", Stan arranges with Dick at the CIA Weather Control to launch a massive category six sub-polar tornado-cane, which wrecks havoc on Langley Falls.
Ad blocker interference detected!
Wikia is a free-to-use site that makes money from advertising. We have a modified experience for viewers using ad blockers

Wikia is not accessible if you've made further modifications. Remove the custom ad blocker rule(s) and the page will load as expected.