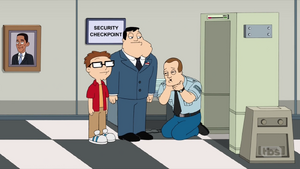 Carl works security at CIA Headquarters.
When Stan takes Steve to work with him to help him with his computer in "N.S.A. (No Snoops Allowed)", Steve asks about joining the CIA someday. Stan dismisses it as Steve needs to be tougher, and demonstrates by punching Carl in the throat. As he gasps for air, Stan refers to him as "Jim" as Carl tries to correct him.
Ad blocker interference detected!
Wikia is a free-to-use site that makes money from advertising. We have a modified experience for viewers using ad blockers

Wikia is not accessible if you've made further modifications. Remove the custom ad blocker rule(s) and the page will load as expected.