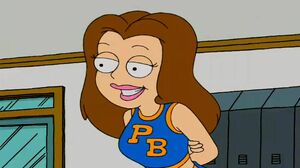 Tara Leigh Patrick, professionally known as Carmen Electra, is an American glamour model, actress, television personality, singer, dancer and sex symbol. She gained fame for her appearances in Playboy magazine, on the MTV game show Singled Out, on the TV series Baywatch, for her appearances dancing with the Pussycat Dolls and has since had roles in the parody films Scary Movie, Date Movie, Epic Movie, Meet the Spartans, and Disaster Movie.
Carmen provided the voice of Lisa Silver in the "Pilot".
Carmen Selectra from "Spring Break-Up" is a parody of Carmen Electra. In fact, one of the partygoers wonders if people meant to say "Electra" instead of "Selectra." But one person disagrees.
Ad blocker interference detected!
Wikia is a free-to-use site that makes money from advertising. We have a modified experience for viewers using ad blockers

Wikia is not accessible if you've made further modifications. Remove the custom ad blocker rule(s) and the page will load as expected.