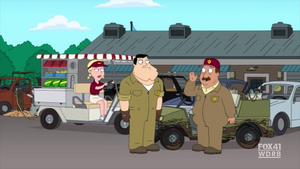 Carrie is one of the members of the Havercamp Country Club that Stan Smith wants to join in "Stanny Tendergrass". As Stan talks with Horatio while working at the club, Horatio yells for Carrie to give him a kiss as she is passing by.
Ad blocker interference detected!
Wikia is a free-to-use site that makes money from advertising. We have a modified experience for viewers using ad blockers

Wikia is not accessible if you've made further modifications. Remove the custom ad blocker rule(s) and the page will load as expected.