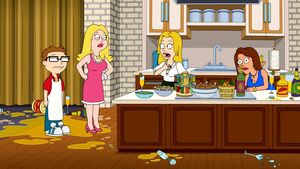 Cathryn Rose "Casey" Wilson (born October 24, 1980) is an American actress, comedian and screenwriter. She was a cast member on Saturday Night Live from 2008–2009 and currently stars as Penny Hartz in the ABC comedy series Happy Endings.
Casey provides the voice of Trish in "Morning Mimosa".
Ad blocker interference detected!
Wikia is a free-to-use site that makes money from advertising. We have a modified experience for viewers using ad blockers

Wikia is not accessible if you've made further modifications. Remove the custom ad blocker rule(s) and the page will load as expected.