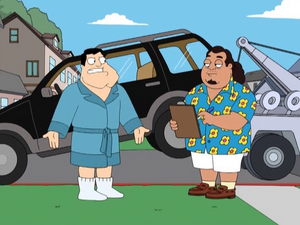 Charles becomes Roger's right-hand man in "Roy Rogers McFreely" when his persona of the same name takes over the chairmanship of the Homeowners Association to get even with Stan for forgetting to get grenadine and not respecting him. He has a fire hydrant placed in front of Stan's house and has Charles tow away his SUV. He later drives a garbage truck with instructions to pick up the Smith's trash every day at 4:30am. When Stan questions this Roger tries to hide the fact that he is in the garbage truck giving instructions.
Charles is voiced by Alex Fernandez.
Ad blocker interference detected!
Wikia is a free-to-use site that makes money from advertising. We have a modified experience for viewers using ad blockers

Wikia is not accessible if you've made further modifications. Remove the custom ad blocker rule(s) and the page will load as expected.