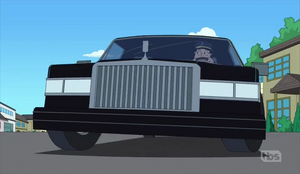 Charles is the limo driver for executives of the Gordon Salt Company.
When Stan gives up on trying to pressure Steve into surrendering the mineral rights to the Smith property after a large salt deposit is found there in "Mine Struggle", the chief executive orders Charles to cut off Stan who is riding a bicycle that contains the remains of his once-valuable Ken Griffey, Jr. baseball cards, causing him to tumble after striking the door of the limo.
Ad blocker interference detected!
Wikia is a free-to-use site that makes money from advertising. We have a modified experience for viewers using ad blockers

Wikia is not accessible if you've made further modifications. Remove the custom ad blocker rule(s) and the page will load as expected.