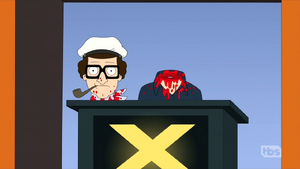 Charles Nelson Reilly II (January 13, 1931 – May 25, 2007) was an American actor, comedian, director, and drama teacher, known for his comedic roles on stage and in films, children's television and cartoons, and as a game show panelist.
When Steve tries to come up with an idea for a school talent show act in "The Talented Mr. Dingleberry" after his singing is sabotaged, Roger pitches becoming his ventriloquist dummy. He shows off a scrapbook of his former act which includes several game show appearances. Later, when Roger turns more psychotic than usual, Steve discovers that the scrapbook also contains clippings from where his former partner Dennis was blamed for a series of murders and sent away to the Danvers Asylum for the Criminally Insane. There, he finds Dennis who reassures him that it was indeed Roger who committed the murders, killing the entire cast of Hollywood Squares in order to become the center square. Charles is shown with his head severed.
Ad blocker interference detected!
Wikia is a free-to-use site that makes money from advertising. We have a modified experience for viewers using ad blockers

Wikia is not accessible if you've made further modifications. Remove the custom ad blocker rule(s) and the page will load as expected.