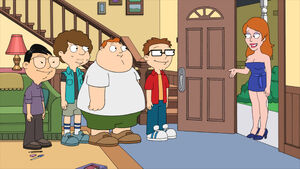 Charlotte is the Smith's new neighbor who introduces herself to Steve and his friends in "Roger Passes the Bar" as a registered sex offender.
After dropping bits of innuendo, the boys decide that they can lose their virginity to her, but she first leads them into cleaning up the yard, pool and even rebuilding her bedroom. When they arrive one morning, they find the house is occupied by a new owner and she is loading her bags, having tricked the boys into doing the work so she could flip the house for a tidy profit.
Charlotte is voiced by Jane Krakowski.
Ad blocker interference detected!
Wikia is a free-to-use site that makes money from advertising. We have a modified experience for viewers using ad blockers

Wikia is not accessible if you've made further modifications. Remove the custom ad blocker rule(s) and the page will load as expected.