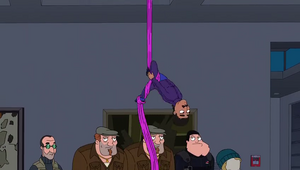 Cheecharito is the Guatemalan contortionist that Roger hires in his plot to help Stan steal a painting of Francine's vagina from the Langley Falls Museum of Art in "Portrait of Francine's Genitals". His sole purpose is to slide down and unsecure the velvet rope separating the public from the painting.
When the gang's Paypal payment from Roger is refused, they set off the fire alarm and leave.
Ad blocker interference detected!
Wikia is a free-to-use site that makes money from advertising. We have a modified experience for viewers using ad blockers

Wikia is not accessible if you've made further modifications. Remove the custom ad blocker rule(s) and the page will load as expected.