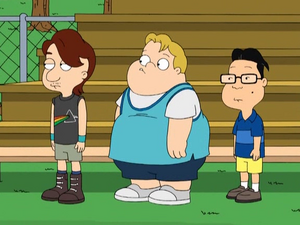 Cheese, Hubert & Li-Fung are three boys who join Steve and Roger's pee wee football team, the Replicants in "Every Which Way But Lose". Intended as parodies of Snot, Barry and Toshi who are also on the team, Toshi attacks Li-Fung for stealing his observational dialog in Japanese, though since he is Chinese he speaks Chinese.
Li-Fung is voiced by Jamison Yang.
Ad blocker interference detected!
Wikia is a free-to-use site that makes money from advertising. We have a modified experience for viewers using ad blockers

Wikia is not accessible if you've made further modifications. Remove the custom ad blocker rule(s) and the page will load as expected.