Chelsea
Talk

0
2,517pages on
this wiki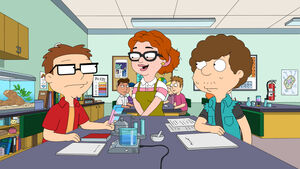 Chelsea is a student at Pearl Bailey High School.
in "Virtual In-Stanity", she attempts to ask to go on a date with Steve Smith when Snot gives him two tickets to Babes on Land show but Steve simply gives her the tickets. When Steve later thinks his date with new girl Phyllis is a bust he finds out that Chelsea can speak Orc and becomes attracted to her. But when Steve starts to ask Chelsea out, Phyllis, who is really his father Stan Smith's avatar in a desperate attempt to bond with Steve offers to have sex with him and Steve leaps at the chance. When Francine gets some sense into Stan, he lets Steve down easy and Steve attempts to reunite with Chelsea, only to find that she is no longer interested in him since he hurt her pride and he notes she has an unusual sense of self-worth.
Chelsea shoots down Steve and Snot's request for a prom date in "Steve and Snot's Test-Tubular Adventure".
Chelsea is voiced by Alyson Hannigan in "Virtual In-Stanity".