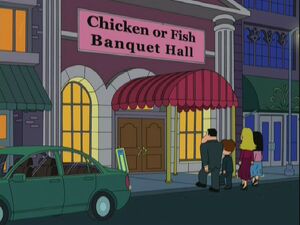 The Chicken or Fish Banquet Hall is where Stan is humiliated in front of his family while attending a banquet honoring African-Americans in "An Apocalypse to Remember". When Stan merely scans the invitation that reads "Black People Changing the Face of America" he only picks up the keywords "black" and "face" and has the family show up in blackface.
Ad blocker interference detected!
Wikia is a free-to-use site that makes money from advertising. We have a modified experience for viewers using ad blockers

Wikia is not accessible if you've made further modifications. Remove the custom ad blocker rule(s) and the page will load as expected.