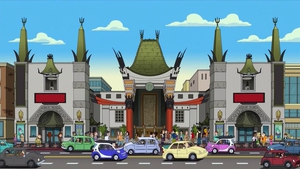 TCL Chinese Theatre, formerly Grauman's Chinese Theatre, and Mann's Chinese Theatre, is a movie theater on the historic Hollywood Walk of Fame at 6925 Hollywood Boulevard in Hollywood, California.
After Stan wins a trip to Hollywood in a radio contest in "A Star Is Reborn", he and Francine visit the Theatre where Francine thinks the Hollywood Walk of Fame is really a cemetery and Stan comments on blood, urine and the costumed characters that pose for pictures. While Francine takes advantage of an opportunity to beat on a Spider-Man impersonator, Stan nearly slips on some marbles placed in the memory of late actor Leonard Zane by his wife June Rosewood. Stan's skill at avoiding a fall reminds June of Leonard and she invites him to lunch, ditching Francine, who takes an opportunity to beat up Spider-Man some more after he falls on the marbles and shatters his hip.
Ad blocker interference detected!
Wikia is a free-to-use site that makes money from advertising. We have a modified experience for viewers using ad blockers

Wikia is not accessible if you've made further modifications. Remove the custom ad blocker rule(s) and the page will load as expected.