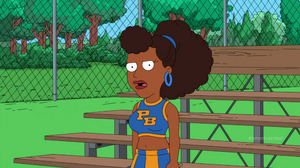 Chloë Grace Moretz (born February 10, 1997) is an American film actress. She began her acting career at the age of seven and has appeared in films such as The Amityville Horror (2005), (500) Days of Summer, Diary of a Wimpy Kid, Dark Shadows, Kick-Ass and Kick-Ass 2.
Chloë has a voice credit as "hot girl" in "Steve and Snot's Test-Tubular Adventure".
Ad blocker interference detected!
Wikia is a free-to-use site that makes money from advertising. We have a modified experience for viewers using ad blockers

Wikia is not accessible if you've made further modifications. Remove the custom ad blocker rule(s) and the page will load as expected.