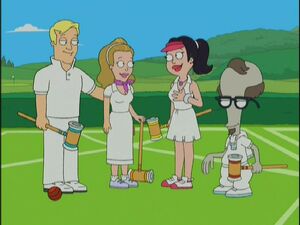 Christine Joan Taylor-Stiller (born July 30, 1971) is an American actress. Taylor began her acting career in 1989 at the age of 18 on the Nickelodeon Network children's television series Hey Dude. In 1995, Taylor was cast as Marcia Brady in The Brady Bunch Movie and later in A Very Brady Sequel She also appeared in the 1998 comedy The Wedding Singer.
Later TV appearances include a guest star in 2005 in two episodes of Arrested Development and in an episode of NBC's My Name Is Earl.
Christine Taylor provides the voice of Candy in "Camp Refoogee".
Ad blocker interference detected!
Wikia is a free-to-use site that makes money from advertising. We have a modified experience for viewers using ad blockers

Wikia is not accessible if you've made further modifications. Remove the custom ad blocker rule(s) and the page will load as expected.