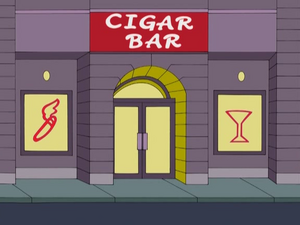 The Cigar Bar is where Stan's CIA buddies take him after they leave Benihana-Ish in "Stan's Night Out". After Dick has too much to drink and hits another car outside the Cigar Bar, Stan's friends throw the driver in the trunk. Inside the Cigar Bar, Stan becomes increasingly worried and insists that they must take the man to a hospital, his friends deem him a buzz kill and go on with their activities. Stan takes Dick's keys and tries to take the man to the hospital but is stopped by a policeman, who is also thrown by Stan's friends into the trunk.
Ad blocker interference detected!
Wikia is a free-to-use site that makes money from advertising. We have a modified experience for viewers using ad blockers

Wikia is not accessible if you've made further modifications. Remove the custom ad blocker rule(s) and the page will load as expected.