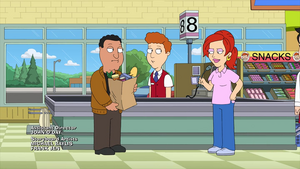 Cindy is a former employee of the Red State Grocery.
When Stan suffers from hallucinations as a side effect of his seizure medication when he tries to lie about the cause of an accident due to his texting and driving in "Seizures Suit Stanny", he believes he crushed Hayley and is delivering her eulogy while in the store. Cindy observes this and uses the PA system to congratulate a customer who insults Stan. Assistant manager Tom reminds her that she isn't allowed to use the store equipment as she no longer works there, but she responds that as a customer, he no longer has any control over what she does.
Cindy is voiced by Hali Hudson.
Ad blocker interference detected!
Wikia is a free-to-use site that makes money from advertising. We have a modified experience for viewers using ad blockers

Wikia is not accessible if you've made further modifications. Remove the custom ad blocker rule(s) and the page will load as expected.