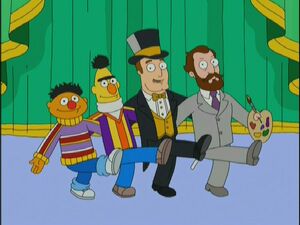 Claude Monet was a founder of French impressionist painting, and the most consistent and prolific practitioner of the movement's philosophy of expressing one's perceptions before nature. The term Impressionism is derived from the title of his painting Impression, Sunrise.
Monet is presented in the musical number "We're Red and We're Gay" in "Lincoln Lover".
Ad blocker interference detected!
Wikia is a free-to-use site that makes money from advertising. We have a modified experience for viewers using ad blockers

Wikia is not accessible if you've made further modifications. Remove the custom ad blocker rule(s) and the page will load as expected.