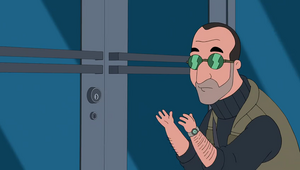 Claude Verdeer is the expert lockpick that Roger hires in his plot to help Stan steal a painting of Francine's vagina from the Langley Falls Museum of Art in "Portrait of Francine's Genitals".
Roger details his backstory as a Belgian with the smallest fingers in the world. Roger finds it gross that he always wants to shake hands, even though he knows Roger doesn't want to shake hands.
When the gang's Paypal payment from Roger is refused, they set off the fire alarm and leave.
Ad blocker interference detected!
Wikia is a free-to-use site that makes money from advertising. We have a modified experience for viewers using ad blockers

Wikia is not accessible if you've made further modifications. Remove the custom ad blocker rule(s) and the page will load as expected.