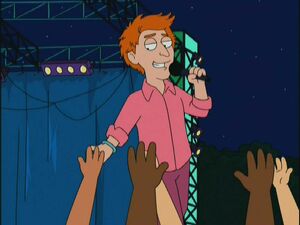 Clayton Holmes "Clay" Aiken is an American pop singer who began his rise to fame on the second season of the television program American Idol in 2003. RCA Records offered him a recording contract, and his multi-platinum debut album Measure of a Man was released in October 2003. He released four more albums on the RCA label: Merry Christmas with Love, A Thousand Different Ways, On My Way Here and the Christmas EP, All is Well.
Stan attracts the attention of the Log Cabin Republicans with his portrayal of Abraham Lincoln and his bodyguard in "Lincoln Lover". After at first rejecting and then embracing the gay Republican lifestyle, Stan attends a Clay Aiken concert.
Ad blocker interference detected!
Wikia is a free-to-use site that makes money from advertising. We have a modified experience for viewers using ad blockers

Wikia is not accessible if you've made further modifications. Remove the custom ad blocker rule(s) and the page will load as expected.