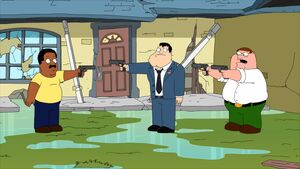 Cleveland Brown is the former main character and protagonist of the Family Guy spinoff, The Cleveland Show.
When he was originally on Family Guy, he was married to Loretta Brown, but they separated after Loretta had an affair with Glenn Quagmire, although they still had feelings for each other before Loretta fell to her death. Together they had a son, Cleveland Brown, Jr. Eventually, Loretta gained his house and Cleveland had to move. Cleveland is now married to Donna and has two step children, Roberta, and Rallo. He and his family returned to Family Guy and Quahog, Rhode Island following the cancellation of The Cleveland Show.
Cleveland is voiced by Mike Henry and appeared with his then former neighbor Peter Griffin in "Hurricane!" as both characters found themselves at the Smith home in Langley Falls following the aftermath of Hurricane Flozell.
Ad blocker interference detected!
Wikia is a free-to-use site that makes money from advertising. We have a modified experience for viewers using ad blockers

Wikia is not accessible if you've made further modifications. Remove the custom ad blocker rule(s) and the page will load as expected.