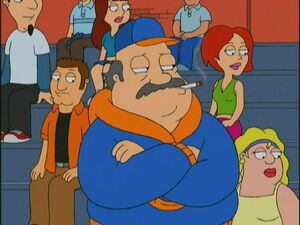 Coach Andrews is the swimming team coach at Pearl Bailey High School. Having taken a bribe from Stan to put Steve into a swim match in "Helping Handis", his biggest regret is not having already died from 30 years of smoking.
He has a crowd scene cameo in "100 A.D.".
Coach Andrews is voiced by Matt McKenna. Although the character is not named in "Helping Handis".
In "Naked to the Limit, One More Time", he is seen as one of the obese people in Ba-Donkin Donutz, where he presumably dies in the fire started there after the overweight patrons block the doorway in their attempt to escape.
He is one of the savage survivors in "The Two Hundred" and is one of many having an affair with Mrs. Lonstein in "Criss-Cross Applesauce: The Ballad Of Billy Jesusworth".
Ad blocker interference detected!
Wikia is a free-to-use site that makes money from advertising. We have a modified experience for viewers using ad blockers

Wikia is not accessible if you've made further modifications. Remove the custom ad blocker rule(s) and the page will load as expected.