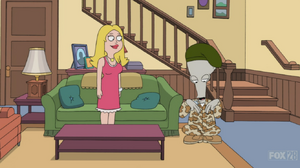 "Cold Hearted" is a single from Paula Abdul's album Forever Your Girl, written and co-produced by Elliot Wolff. It hit number one on the Billboard Hot 100, becoming the album's third song to top the US chart.
Roger's persona of Sgt. Pepper features "Cold Hearted" as his ringtone in "Dr. Klaustus", prompting him to sing and dance when it rings.
Lyrics
He's a cold hearted snake, look into his eyes
Oh oh, he's been tellin' lies
He's a lover boy at play...
Oh, I better get this.
Ad blocker interference detected!
Wikia is a free-to-use site that makes money from advertising. We have a modified experience for viewers using ad blockers

Wikia is not accessible if you've made further modifications. Remove the custom ad blocker rule(s) and the page will load as expected.