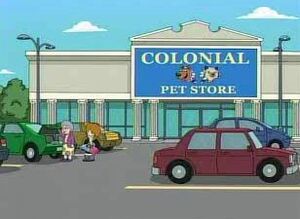 The Colonial Pet Store is where Roger finds employment to try to support himself in "Brains, Brains and Automobiles". The store's employee ranks are noted by the pet stickers on their nametags. Roger has only a single mouse but dreams of having three dogs.
Ad blocker interference detected!
Wikia is a free-to-use site that makes money from advertising. We have a modified experience for viewers using ad blockers

Wikia is not accessible if you've made further modifications. Remove the custom ad blocker rule(s) and the page will load as expected.