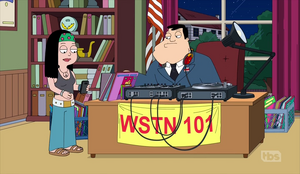 "Come to My Window" is a Grammy Award-winning song, originally by Melissa Etheridge.
In "Standard Deviation", while preparing for a DJ battle, Hayley finds Stan sorting though old record albums, including Roger Goes Down on Lilith Fair. One track from an album that Stan is listening to is Roger singing "Come to My Window", which he identifies as Etheridge's version, referring to her as a "public lesbian."
Lyrics
Roger: Come to my window
Crawl inside, wait by the light of the moon
Ad blocker interference detected!
Wikia is a free-to-use site that makes money from advertising. We have a modified experience for viewers using ad blockers

Wikia is not accessible if you've made further modifications. Remove the custom ad blocker rule(s) and the page will load as expected.