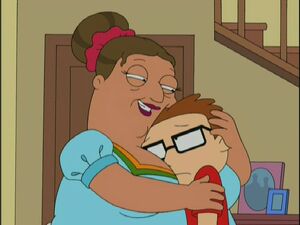 Consuela is part of Paco's extended family of illegal Mexican immigrants in "American Dream Factory". When Steve comes to report that Roger has stolen his band, Francine assigns Consuela to "comfort" him, nearly smothering him in the process.
Ad blocker interference detected!
Wikia is a free-to-use site that makes money from advertising. We have a modified experience for viewers using ad blockers

Wikia is not accessible if you've made further modifications. Remove the custom ad blocker rule(s) and the page will load as expected.