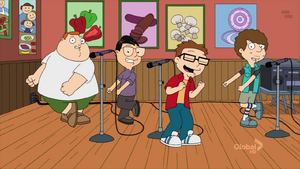 "Cool It Now" is a 1984 hit single by R&B/Pop group New Edition, and is the first single from their eponymous second album, New Edition. The song peaked at #4 in January, 1985 on the Billboard Hot 100 chart.
Steve, Barry, Toshi and Snot sing "Cool It Now" at Pizza Overlord in "Can I Be Frank (With You)" as their boy band "Boy Bomb". Steve sings lead with the rest on backup.
Lyrics
All I keep thinking about is her
In my arms
(Got to see what love is about)
And I'll never be the same until you are mine
Ooooooh...listen to me, let me tell you
Why you all coming down on me
Tryin to tell me how my life is supposed to be
I know you're only trying to help me out
Tryin to show me what life is really about
But this time I'm gonna make it on my own
So why don'tcha fellas just leave me alone
Snot, Barry, Toshi and Steve
If I like the girl who cares who you like
Cool It Now
(Ooooooh watch out)
You're gonna lose control
Cool it nowwwwwwwwww
Ad blocker interference detected!
Wikia is a free-to-use site that makes money from advertising. We have a modified experience for viewers using ad blockers

Wikia is not accessible if you've made further modifications. Remove the custom ad blocker rule(s) and the page will load as expected.