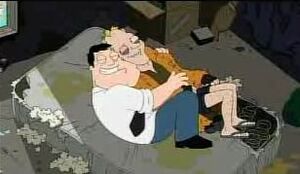 "Crackhead Booboo" is the mother of Stan's crack dealer in "A Jones for a Smith". While on a crack high, Stan finds himself curled up with her.
Both she and her son are visible at the back of the drug den where Roger and Cookie Buckingham end up in "School Lies".
Crackhead Booboo is voiced by Erik Durbin.
Ad blocker interference detected!
Wikia is a free-to-use site that makes money from advertising. We have a modified experience for viewers using ad blockers

Wikia is not accessible if you've made further modifications. Remove the custom ad blocker rule(s) and the page will load as expected.