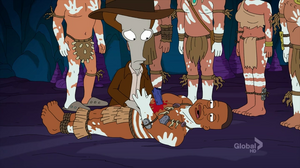 Cuba M. Gooding, Jr. (born January 2, 1968) is an American actor who is an Academy Award-winner for the film Jerry Maguire.
In "The Adventures of Twill Ongenbone And His Boy Jabari", Roger buys Cuba Gooding, Jr.'s Oscar for Show Me the Money on eBay to Stan's disgust. Later, while being chased by "natives" on an archeological dig, Francine accidentally stabs one with a stalagmite that turns out to be Cuba Gooding, Jr. as an actor hired by Roger. At his funeral at St. Hughart D'Asissi, Stan is one of the few mourners, as he returns the Oscar to Cuba.
Cuba is voiced by Wayne Brady.
Ad blocker interference detected!
Wikia is a free-to-use site that makes money from advertising. We have a modified experience for viewers using ad blockers

Wikia is not accessible if you've made further modifications. Remove the custom ad blocker rule(s) and the page will load as expected.