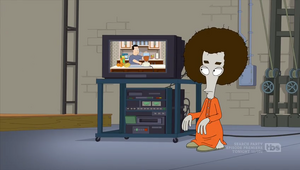 Curtis Stone (born 4 November 1975) is an Australian celebrity chef, author and television personality, known for his appearance on The Celebrity Apprentice 3.
Curtis provides his own voice as the resident smoothie maker on Trish and Suze's show, Morning Mimosa.
After nearly being exposed on the show for his multiple personas by Hayley in "The Enlightenment of Ragi-Baba", Roger sets off to "find himself" spiritually, but pauses to watch Curtis make a smoothie with bananas.
Ad blocker interference detected!
Wikia is a free-to-use site that makes money from advertising. We have a modified experience for viewers using ad blockers

Wikia is not accessible if you've made further modifications. Remove the custom ad blocker rule(s) and the page will load as expected.