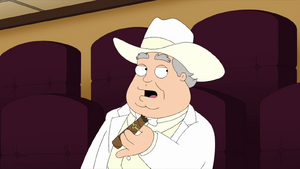 Cyrus Mooney was the owner of The Langley Falls Bazooka Sharks until he was killed by thieves intent on breaking into his safe in "The Long Bomb". It is revealed that the leader of the gang is former star quarterback Juan 'Johnny Concussion' Consuelo out for revenge after nearly being fired due to brain injuries and is after his final game jersey which is kept in the safe.
Cyrus is voiced by George Lowe.
Ad blocker interference detected!
Wikia is a free-to-use site that makes money from advertising. We have a modified experience for viewers using ad blockers

Wikia is not accessible if you've made further modifications. Remove the custom ad blocker rule(s) and the page will load as expected.