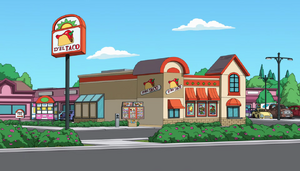 D'el Taco is a Mexican fast-food restaurant in "A Nice Night For a Drive" where Steve and his friends 'prank' by walking through the drive thru and ordering water, while making motor noises to pretend they are in a car.
When they get to the pick up window, they find Roger is the clerk as he berates them for pulling such a lame prank, and suggests they go throw eggs off of an overpass. He has to set aside to get a homeless man who has locked himself in the restroom out while they have a store full of customers with diarrhea.
Ad blocker interference detected!
Wikia is a free-to-use site that makes money from advertising. We have a modified experience for viewers using ad blockers

Wikia is not accessible if you've made further modifications. Remove the custom ad blocker rule(s) and the page will load as expected.