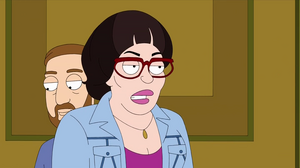 D.O. Rothy is Francine's completion for a "Best Lonely Housewife Detective Novella - Soft Core" award for her book in "Manhattan Magical Murder Mystery Tour".
As the six-time winner, she dismisses any thought that Francine can top her, and when Francine fails to show after winning the contest at first, the award is then awarded to Rothy. Steve believes that is mother has been kidnapped so he and Roger turn their "Wheels and the Legman" personas to use to solve the mystery, but after Roger leads them all over Manhattan, Steve deduces that Roger kidnapped Francine himself.
But when they find that Francine has really been kidnapped from Roger's hiding place in her closet, they confront Rothy, who sounds menacing, but is able to provide a solid alibi from awards host Daniel that they were having sex together. They then decide to pursue actor Robert Wuhl, believing that the guest star must be the guilty party.
D.O. Rothy is voiced by Kathy Bates.
Ad blocker interference detected!
Wikia is a free-to-use site that makes money from advertising. We have a modified experience for viewers using ad blockers

Wikia is not accessible if you've made further modifications. Remove the custom ad blocker rule(s) and the page will load as expected.