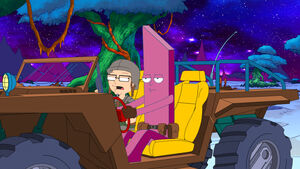 Damien is a Gumby-like toy that Steve imagines that he is on a mission on a dangerous planet with in "Toy Whorey". When they are surrounded by troll-like creatures, Damien takes several shots and tells Steve to tell his wife that he always loved Steve before they are rescued by two other toys from Steve's collection.
Ad blocker interference detected!
Wikia is a free-to-use site that makes money from advertising. We have a modified experience for viewers using ad blockers

Wikia is not accessible if you've made further modifications. Remove the custom ad blocker rule(s) and the page will load as expected.